Events
Current Events | Upcoming Events | Past Events
Upcoming Event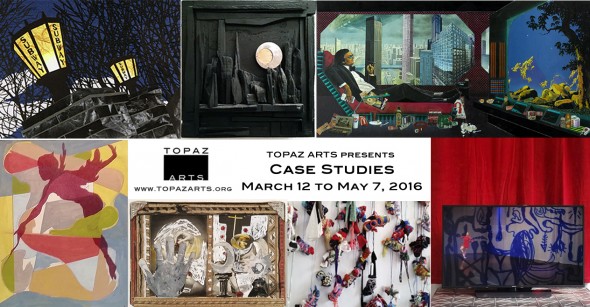 Join us for the closing reception for the group exhibition Case Studies on Sat, May 7, 3-6pm, in conjunction with an informal performance by emerging choreographers Tsai Hsi Hung at 3pm and Dylan Crossman at 5pm in the dance studio for Topaz Arts Series: Choreographers in the Studio.
Topaz Arts presents
Case Studies
-  group exhibition featuring
Joseph Paul Fox  |  Ged Merino  |  Orange   |  Roger Rothstein  |  Junko Yamada
with works by Todd B. Richmond and Paz Tanjuaquio

on view March 12 to May 7, 2016
opening reception: Sat, March 12, 3-6pm
closing reception: Sat, May 7, 3-6pm
---
Past Events

Join us on 05.15.15 to Celebrate TOPAZ ARTS' 15th Year!
You are invited for a special evening
on Friday, May 15, 2015, 6-9pm
TOPAZ ARTS, 55-03 39th Ave: directions >
Please click here to RSVP

Kicking off our 15th Year Celebration, TOPAZ ARTS features the work of founding artists
Todd B. Richmond and Paz Tanjuaquio
featuring
MIND FIELD: Oil & Oranges
a solo exhibition of large-scale oil paintings by Todd B. Richmond
a screening of Dance Films will be viewed throughout the evening
by Paz Tanjuaquio & Todd B. Richmond created within their 20 year collaboration
Join us for a reception with light food & drinks.
Admission is complimentary. Please click here to RSVP.

See you on the 15th to celebrate TOPAZ ARTS 15th!
---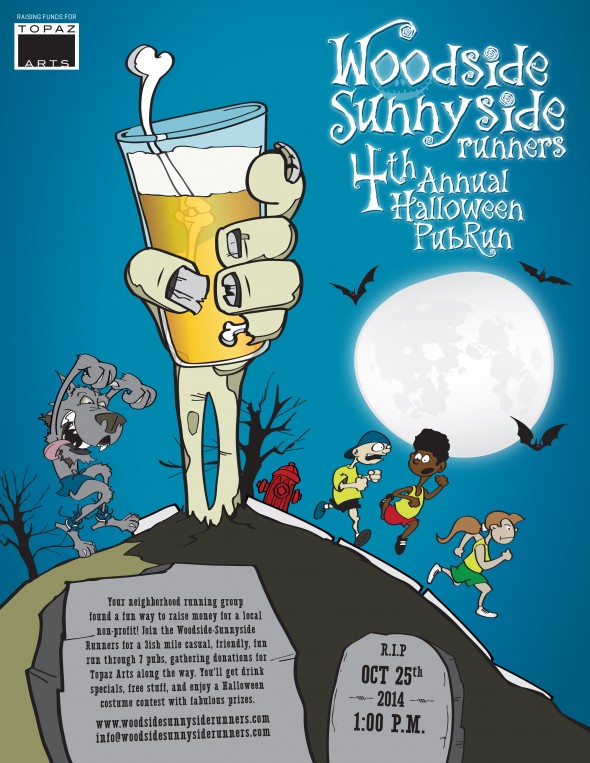 Join us on Sat Oct 25, 2014 at 1:00pm, as the Woodside-Sunnyside Runners embark on a journey through one neighborhood gallery & seven pubs while very casually running about 3ish miles. A fun afternoon adventure with drink specials, costume contest (with prizes!) while raising funds for a local nonprofit. Please see details & RSVP >
We will meet on Sat, Oct 25th at 1:00pm at Topaz Arts located at 55-03 39th Ave, just off 55th Street in Woodside, Queens. Details at www.topazarts.org
Suggested donation: $20.00
This year, we will raise funds for TOPAZ ARTS, a fabulous gallery and dance space in Woodside that has been bringing contemporary art to the community since 2000. (All amounts are fully tax-deductible & benefit the nonprofit Topaz Arts, Inc.)
---
October 31 & November 1, 2014 at 7:30pm: The Revival of The Beauty of Ghosts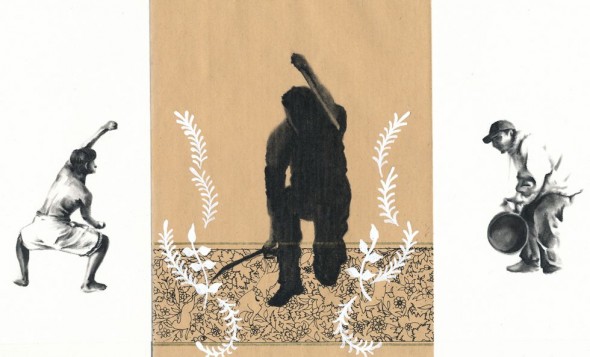 THE BEAUTY OF GHOSTS
Theater of Poetry
By Luis H. Francia
Directed by Claro de los Reyes
Friday, October 31, 2014, 7:30pm
Saturday, November 1, 2014, 7:30pm
Post-performance discussion and reception to follow each evening
Tickets: $15 in advance / $20 at the door
Purchase tickets here >
TOPAZ ARTS is pleased to host the revival of The Beauty of Ghosts, where the reading had its world premiere in 2007.  This is an idiosyncratic suite of poems envisioned as a theater of poetry. The works revolve around the Filipino immigrant experience in the United States, as seen through the eyes of various individuals, imagined but also real, and deal with the intersections of memory and history, racism, neo-colonialism, hope, survival, and contemporary realities. The revival is presented in honor of Philippine American History Month.
---
ARTIST TALK: Saturday, September 27, 2014 at 2pm

TOPAZ ARTS Visual Arts Program presents Past Present: Resurfacing
a solo exhibition of woodwork, sculpture and painting by An Ngoc Pham
on view June 14 to November 1, 2014
showing by appointment: please email visit@topazarts.org
Special Event!
Sat, Sept 27, 2014 at 2:00pm
Artist Talk with An Ngoc Pham in conversation with Chuong-Dai Vo
Join the artist in conversation with visiting curator Chuong-Dai Vo as they discuss Pham's life and work.

TOPAZ ARTS is please to present Past Present: Resurfacing featuring Vietnamese-American artist An Ngoc Pham. Surveying a 25-year span of works created in New York City, the solo exhibition by An Pham features woodwork, sculpture and painting. Join the artist in conversation with visiting curator Chuong-Dai Vo as they discuss Pham's life and work. read more >
---
OPEN REHEARSAL: Saturday, September 20, 2014 at 2pm:
TOPAZ ARTS presents an open rehearsal with choreographer Julian Barnett. We are pleased to support Julian Barnett this Fall with residency space at TOPAZ ARTS to develop his new work BLUEMARBLE, scheduled to premiere in the U.S. on Oct 23-25, 2014 at the Danspace Project. Come preview the work in rehearsal on Sat, Sept 20, 2014 at 2pm:
Open Rehearsal with Julian Barnett
Saturday, September 20, 2014 at 2:00pm


The TOPAZ ARTS Choreography Residency Program is made possible, in part, by TOPAZ ARTS' funds from Andrew W. Mellon Foundation and NYS DanceForce.
---
Saturday, October 26, 2013, 3-6pm


TOPAZ ARTS presents Unearthing the Magic featuring
Mamerto "Lagitan" Tindongan
opening of the solo exhibition of wood sculptures
and
Grace Nono – New York book launch of her new book Song of the Babaylan:
Living Voices, Medicines, Spiritualities of Philippine Ritualist-Oralist-Healers
4:00pm: Artist presentations and a special collaborative performance by
Mamerto Tindongan, Grace Nono, and choreographer Paz Tanjuaquio
Saturday, October 26, 2013, 3-6pm
at TOPAZ ARTS
55-03 39th Avenue, Queens > directions
Admission is free. Reservations recommended at rsvp[at]topazarts[dot]org
TOPAZ ARTS is pleased to present Unearthing the Magic featuring the opening of a solo exhibition of wood sculptures by Mamerto "Lagitan" Tindongan. Award-winning artist Grace Nono joins with the New York launching of her new book Song of the Babaylan: Living Voices, Medicines, Spiritualities of Philippine Ritualist-Oralist-Healers. At 4:00pm, both artists will give a presentation, with a special collaborative performance by Tindongan, Grace Nono, and choreographer Paz Tanjuaquio.

> more about the book launch
> more about the exhibition
---
July 23-25, 2013: TOPAZ ARTS hosts the NYS DanceForce Annual Meeting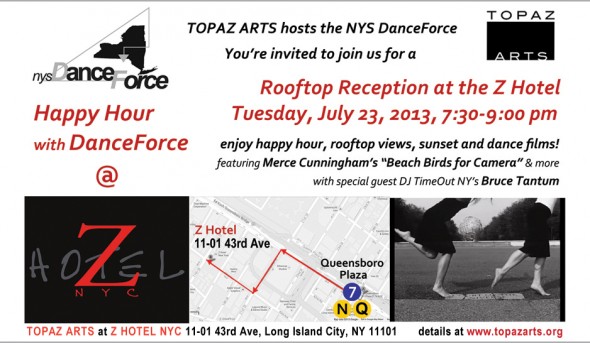 TOPAZ ARTS is pleased to announce the 2013 annual meeting of the New York State DanceForce to be held in Queens from July 23-25, 2013. NYS DanceForce is a statewide network of twenty dance organizers who are committed to increasing dance activity across New York, convening each year at different counties throughout the state. As a member of the NYState DanceForce since 2009, TOPAZ ARTS is honored to host this year's annual meeting in Queens. For more information, please visit www.danceforce.org and www.topazarts.org.
Join us for an open reception Happy Hour with DanceForce on Tuesday, July 23rd from 7:30-9:00pm on the rooftop of the Z Hotel, located at 11-01 43rd Avenue in Long Island City, Queens. ­­ The event is free and open to the public. rsvp on facebook >
Enjoy happy hour drink specials, rooftop views, sunset, and music by special guest DJ TimeOutNY's Bruce Tantum.
Featured on the rooftop bar's flatscreens are dance films by TOPAZ ARTS and
special screenings of Merce Cunningham's "Beach Birds for Camera" and more!
These events are administered by TOPAZ ARTS, Inc. sponsored by the NYS DanceForce with funds from the New York State Council on the Arts Dance Program. Very special thanks to the Merce Cunningham Trust.
---

TOPAZ ARTS is pleased to present 1975 - a group exhibition curated by Chuong-Dai Vo featuring new works by Anida Yoeu Ali, Amy Lee Sanford, and LinDa Saphan. read more >

On view April 27 to May 26, 2013
Opening reception: Sat, April 27, 2013, 6-8pm
---

Join us on Sunday, April 7th for a reception honoring Philippine National Artist Ben Cabrera, introduced by writer Luis H. Francia. details >
Brunch with BenCab
Sunday, April 7, 2013, 2-4pm
Admission is free: reservations recommended at rsvp@topazarts.org
TOPAZ ARTS is pleased to host a brunch reception for an informal meet and greet with the celebrated Philippine artist, in conjunction with his participation in "200 years of identity Bi/Coa: Visions of Latin/American Art" at the Instituto Cervantes, 211 East 49th St. New York, NY,  on view April 4–26, 2013.
BenCab, as he is more popularly known, is widely hailed as a master of contemporary Philippine art. A painter and printmaker, he has exhibited widely in the Philippines and in Asia, Europe, and the United States. He has won several major art awards in a career spanning four decades. In 1992, he received the Gawad CCP Para sa Sining (Cultural Center of the Philippines Award for the Arts). In 2006, he was conferred the Order of National Artist for Visual Arts. His works have been the subject of three books, Ben Cabrera: Etchings (1970-1980) by Cid Reyes; Bencab's Rock Sessions by Eric Caruncho; and BENCAB by Alfred Yuson and Cid Reyes. The artist lives and works in Baguio City where he founded the BenCab Museum.
---
Open rehearsal and a dance-making workshop by Sarah Council Dance Projects
Previewing sections from Deep Water, SCDP's newest work-in-progress, and a workshop on the creative process of making dance.
Saturday, March 23, 2013, 4-5:30pm Free! All are welcome.
View photos of the event >

photos 2013 © TOPAZ ARTS, Inc.
---
TOPAZ ARTS presents
BASTARDS OF MISREPRESENTATION: NEW YORK EDITION
a multi-venue exhibition on view Oct 27 – Dec 30, 2012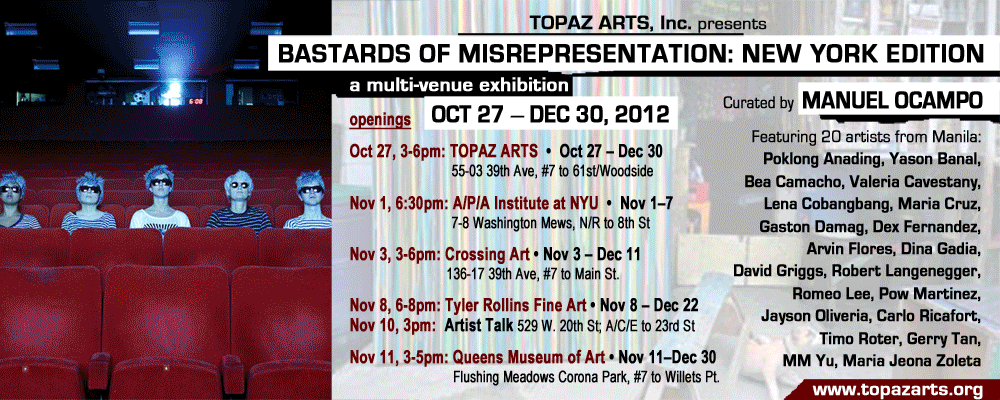 Curated by artist Manuel Ocampo
Featuring 20 artists from Manila:
Poklong Anading, Yason Banal, Bea Camacho, Valeria Cavestany, Lena Cobangbang, 
Maria Cruz, Gaston Damag, Dex Fernandez, Arvin Flores, Dina Gadia, David Griggs, 
Robert Langenegger, Romeo Lee, Pow Martinez, Jayson Oliveria, Carlo Ricafort, Timo Roter, 
Gerry Tan, MM Yu, Maria Jeona Zoleta
TOPAZ ARTS, Inc. is pleased to present Bastards of Misrepresentation: NY Edition, 
presented as a multi-venue exhibition headquartered at TOPAZ ARTS with participating organizations Queens Museum of Art, Tyler Rollins Fine Art, Crossing Art Gallery, and the Asian/Pacific/American Institute at NYU, taking place October 27 through December 30, 2012 with special events and artist talks scheduled throughout the duration.
Bastards of Misrepresentation is about the cultural scene happening in the Philippines yet is not a definitive show about Philippine art. The artists included in "Bastards of Misrepresentation" represent the cutting edge of Filipino art in the last five years. Three of the artists from Manila — Yason Banal, Lena Cobangbang and Maria Jeona Zoleta — will be in NYC to participate as Artists-in-Residence at TOPAZ ARTS with funding provided, in part, by the Asian Cultural Council Starr Foundation Visual Arts Fellowship.
Bastards of Misrepresentation: New York Edition has been organized by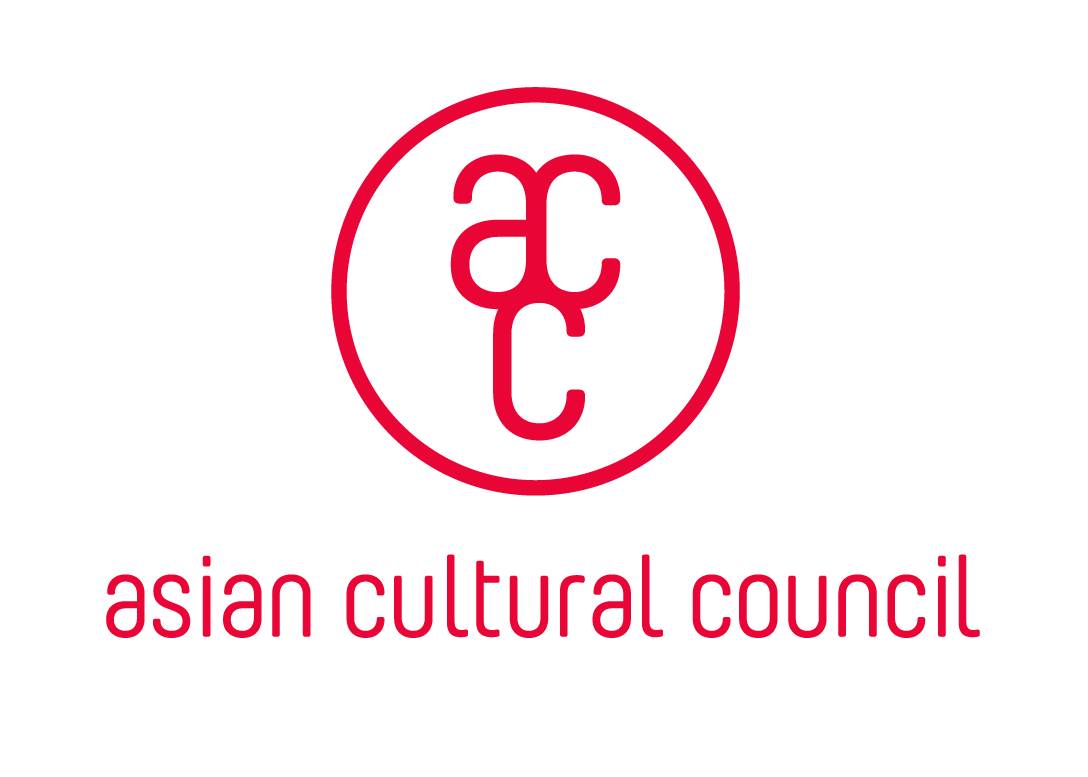 TOPAZ ARTS, Inc. and by artist/curator Manuel Ocampo with the support of the Asian Cultural Council.
download full press release here >
---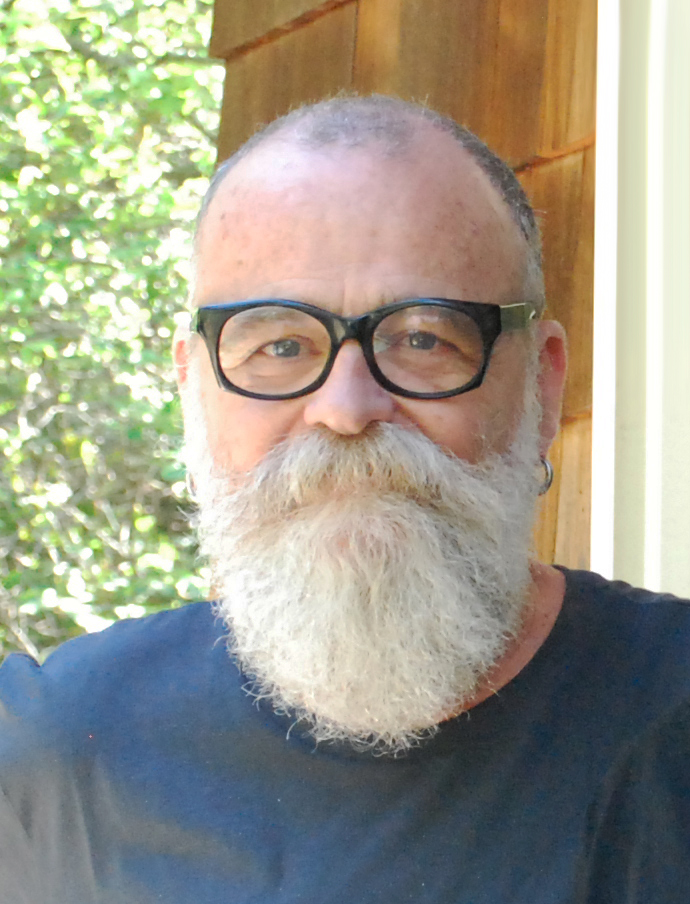 Special Event: Brunch with AA Bronson
Sunday, December 2, 2012 at 2pm

TOPAZ ARTS is pleased to host a special event in recognition of World AIDS Day. Internationally renowned artist AA Bronson discusses his lifelong work as an artist. As one of the members of the artists' collective General Idea, and then as an independent artist, he has dealt with themes of HIV/AIDS, trauma, loss, and healing. Most recently, he has been carrying out a series of collaborations with younger generations of artists. He is the founder and director of the Institute for Art, Religion and Social Justice at Union Theological Seminary, and of Printed Matter's NY Art Book Fair, recently held at MoMA/PS1 in Long Island City.
---
Under the Influence: January 5 to February 3, 2013
Opening reception: Sat, Jan 5, 2013, 3-6pm
Group show featuring artists Chris Freeman (paintings), Tenjin Ikeda (printmaking), Todd Richmond (paintings), Alan Ulrich (sculpture). Under the Influence features artists who worked  intensely together during the 1990s as artist assistants of sculptor Richard Artschwager. While diversely different in form, these artists have all been influenced by the experience of creating many major works for Artschwager. Much like the creative process in the works of the influential artist, these works explore a dynamic range from precision and craftsmanship, to whimsical, intelligent abstract forms. read more >
Read a related article – Artists featured in The Wall St. Journal >
---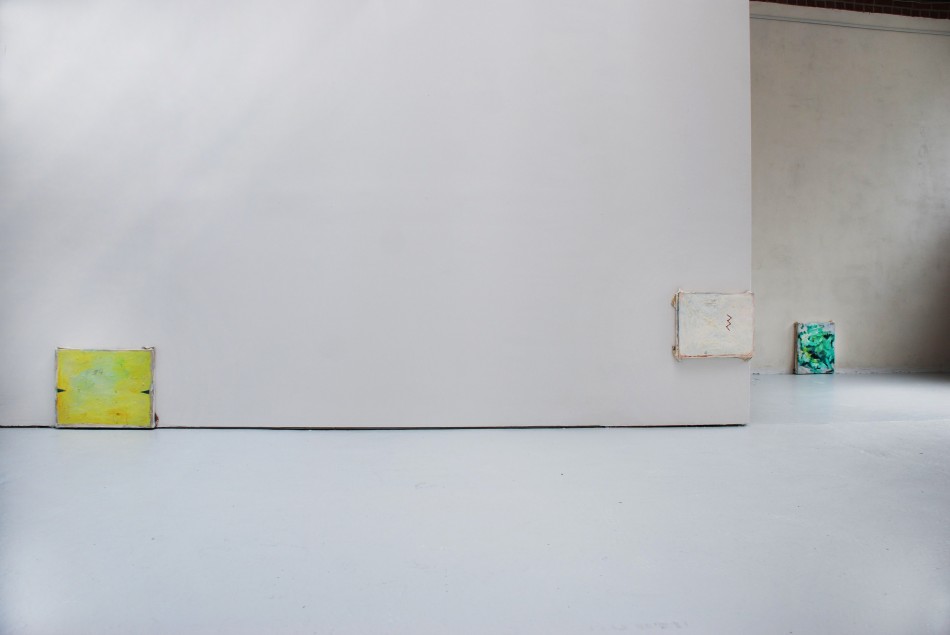 Join us on Saturday, June 30, 2012, 3-6pm
Closing reception of "The 80′s" with artist Manuel Ocampo
TOPAZ ARTS is pleased to have presented the solo exhibition "The 80′s" by Manuel Ocampo.
Come have a toast and  join us in welcoming Manuel Ocampo, internationally renowned artist from the Philippines. We are thrilled to announce our upcoming plans and collaboration with Ocampo in presenting artists from Manila in Bastards of Misrepresentation this Fall 2012. Read more about the Artist >
---


Saturday, December 3, 2011, 3-6pm:
Opening reception of "Memory of Smoke" – a solo exhibition of new works by Cambodian artist Bandaul Srey.  Accompanied by drawings and photographs by Timothy Lomas/Global Children's Art Programme from a project at Phare Ponleu Selpak. details >
Special musical guests at 6pm, free admission
The Noah Kaplan Quartet will perform in celebration of their new recording, Descendants, on HatHut Records.  Featuring: Noah Kaplan (saxophone); Giacomo Merega (electric bass); Joe Moffett (trumpet); Ben Hall (drums). details >
photos by Paz Tanjuaquio
Artists Meet & Greet with Councilmember Jimmy Van Bramer
On Wednesday, November 30th, TOPAZ ARTS hosted Fractured Atlas' November Meet & Greet Event Series: artists from different neighborhoods in New York City engaged in lively conversation with District 26 Council Member Jimmy Van Bramer and Cultural Affairs Chair, followed with music by LIC-based artist Anthony Cekay.
---
Monday, June 20, 2011 at 7:30pm
Thelma Hill Performing Arts Center presents thirty5in5
in honor of their 35 years in Dance
Paz Tanjuaquio performs a new solo with new music by Todd Richmond
Kumble Theater at Long Island University, Brooklyn, NY
(Flatbush Ave btwn DeKalb & Willoughby)
Tickets: $15 / $12 students & seniors

We are honored to perform among 35 artists in 5 days in Thelma Hill Performing Art Center's Celebration of their 35th Anniversary Season June 19-23, 2011. Joining us on Monday, June 20th are performances by Alfred Gallman, Edisa Weeks, Forces of Nature, Germaul Barnes, Marlies Yearby and Nicholas Leichter.
---
Informal Showing with choreographer Yang Sook Cho


Sunday, May 22, 2011 at 3:00pm, free admission

Join us in welcoming choreographer Yang Sook Cho from Seoul, Korea in an informal showing of work. Culminating from a 3-week residency at Topaz Arts.

---
An Open Rehearsal with choreographer John Jasperse
Monday, May 2, 2011 at 5:00pm, free admission
Contemporary Artistic Process: Explored and Revealed
Notes on the Open Rehearsal: "Inside the Creative Process"
> read it here on QueensBuzz
This event will feature a live rehearsal of the work in development followed by a discussion with the artists and the audience. The open rehearsal process affords the public a look into the sometimes serpentine process of creation.
As a part of the Contemporary Artistic Process: Explored and Revealed Series, John Jasperse is embarking on a series of Open Rehearsals, which will follow the trajectory of a new evening-length performance work Canyon as it develops over the coming year.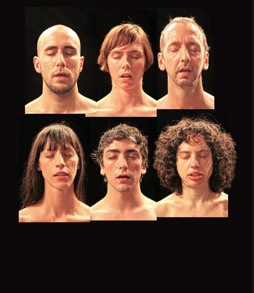 Canyon
Created by John Jasperse in collaboration with the performers Lindsay Clark, Erin Cornell, Kennis Hawkins,
Burr Johnson, James McGinn and John Jasperse
Music:  Hahn Rowe
Visual Design:  Tony Orrico in collaboration with Jasperse
Lighting Design:  James Clotfelter in collaboration with Jasperse
"Waking up begins with saying am and now.  That which has awoken then lies for a while staring up at the ceiling and down into itself until it has recognized I, and therefrom deduced I am, I am now."     -  Christopher Isherwood
"What is your original face?"  -  The Sixth Patriarch Hui Neng
Documentation of the rehearsal process will be available through John Jasperse's blog where audience members may further respond to the work at http://johnjasperse.org/blog
---
Past Events
event photos by Greg M Stowell, Paz Tanjuaquio, and Todd Richmond
Celebrating 10 Years…
TOPAZ ARTS' 10th Year Celebration on 10/10/10 was a blast! A big thank you to everyone who helped to support and celebrate this major milestone. And the celebration continues… stay tuned for upcoming events in our 10th Anniversary Season. A special thank you to La Flor, Five Star Wines & Liquor, and Natural Market – our local establishments whose generous offerings made the event delicious!
Hosted by Christalyn Wright, the event featured an amazing line-up of special guests and performers, including opening remarks from the Honorable NYC Councilmember Jimmy Van Bramer, Chairman of the Committee on Cultural Affairs, and performances by Molissa Fenley & Dancers, Monstah Black, a film short by Todd Richmond, readings by literary luminaries Luis H. Francia, Queens Poet Laureate Paolo Javier, and Carl Hancock Rux with a dance improvisation by Paz Tanjuaquio. The event opened with a solo exhibition of new paintings by Roy Fowler and continued into the evening with music by DJs Bruce Tantum and Niles Ford.
It's been a tremendous ten years! In 2000 when we founded TOPAZ ARTS, we envisioned creating an urban oasis in which to collaborate and encourage new works. Today, thousands of artists and audiences have since come through our door to realize their projects and experience new ideas. TOPAZ ARTS has supported and presented hundreds of new works from contemporary dance, music, & visual arts to poetry, film and festivities, making vital connections to our community and worldwide through our diverse programming.