Sustainability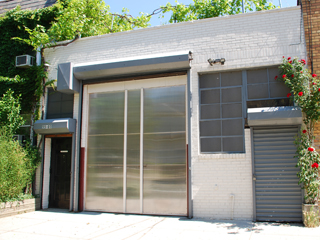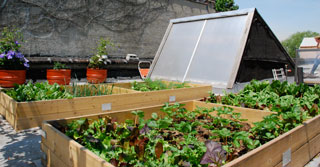 Polycarbonate panels provide passive solar heat
Since its inception in 2000, TOPAZ ARTS has used sustainable concepts in building design, operations and practices. We believe that sustainable living is something that we can all work towards and can always improve upon, that each effort we make towards conservation and sustainability makes a lasting impact for the environment. In building up our space, we have concentrated on energy efficiency and common sense green building, including:
radiant heating
passive solar heating
edible green roof
efficient lighting
energy conservation
recycling and reuse of materials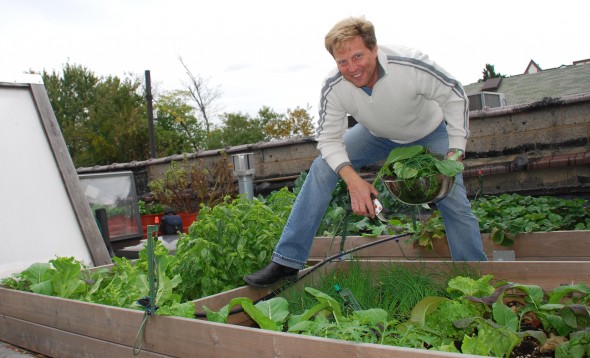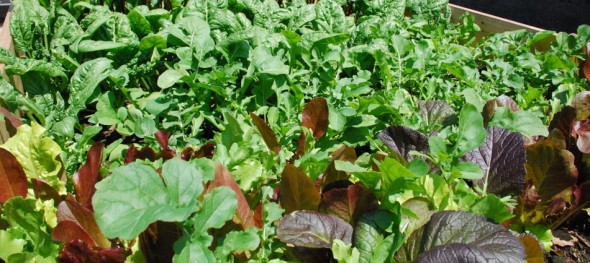 Organic roof garden
Radiant Heating for the Dance Space:
Our first green project was to develop a hydronic heated sprung dance floor for our rehearsal/performance space. The sprung floor floats on 800 rubber blocks for acoustic isolation. Underneath the suspended floor is a specially designed radiant heating system which contains an integrated layer of PEX hydronic pipe and 2.5 tons of sand for heat dispersion while retaining flexibility. Our water is heated by a 96% efficient direct vent system – a highly efficient water heater saving us in energy bills in the nearly ten years of use. The hydronic floor is set to keep the dance space at 60 degrees in winter and a supplemental 94% efficient direct vent forced air system kicks-in to heat up to 68 degrees within a few minutes, saving energy when the space is not in use.
Passive Solar Heating for the Gallery Space:
Heating for the Gallery space is a 10ft x 12ft passive solar wall and a 8ft x 16ft skylight both made from 25mm 5-cell polycarbonate material. Situated to maximize the southern exposure, the skylight is angled at a 46-degree slope to attract the most sun in the coldest months. The passive solar wall takes the place of a converted commercial garage door. The winter sun at its lowest point shines through the passive solar wall into the building which heats the space and warms the thick concrete floor (mass), storing heat for nighttime. During the summer months, overheating is prevented as the sun is directly overhead and does not shine into the passive solar wall, keeping the space cooler. Supplemental heating for the gallery is an 86% efficient direct vent gas fireplace. The gallery also acquires natural light from the solar wall and skylight.
Organic Roof Garden:
Since our inception in 2000, we have used our roof for an edible organic garden where we have successfully grown quantities of grapes, tomatoes, eggplant, peppers, zucchini, mesclun salads, beets, leeks, herbs (basil, parsley, dill, chives, oregano, mint), blueberries, strawberries, flowers, and most recently, a rice paddy. Using organic soils and water filtration, our garden has thrived from early spring to late fall. The large areas of soil keeps the roof cool while adding to the building's insulation.
Recycling and Reuse:
A large portion of TOPAZ ARTS was built from recycled and reused products donated in great part from Material for the Arts – a program of the NYC Dept. of Cultural Affairs, & the Dept. of Sanitation & Board of Education. Acquiring materials to build up our space from a spiral stairway, drywall, polycarbonate for our passive solar wall and skylight, to theater curtains, tables, chairs, industrial sink, shelving, desks, mirrors, office supplies, among many materials.
Efficient Lighting:
TOPAZ uses energy efficient lighting utilizing fluorescents and Light Emitting Diode (LED) lights that produce bright high output with very low power consumption. In 2008, we installed LED stage lighting in the dance studio that are capable of millions of colors with the advantage of their high efficiency, the lights remain cool and do not cause heat build-up. Our most recent production was completely lit by LED lighting. For external building lights, we have installed motion sensors, saving energy while keeping the building safe overnite.
Energy Conservation:
TOPAZ uses energy-star high efficient appliances throughout the building. Ceilings and walls are highly insulated for heating and cooling efficiency. Roofing is aluminum coated to help with cooling in summer.