Artist Services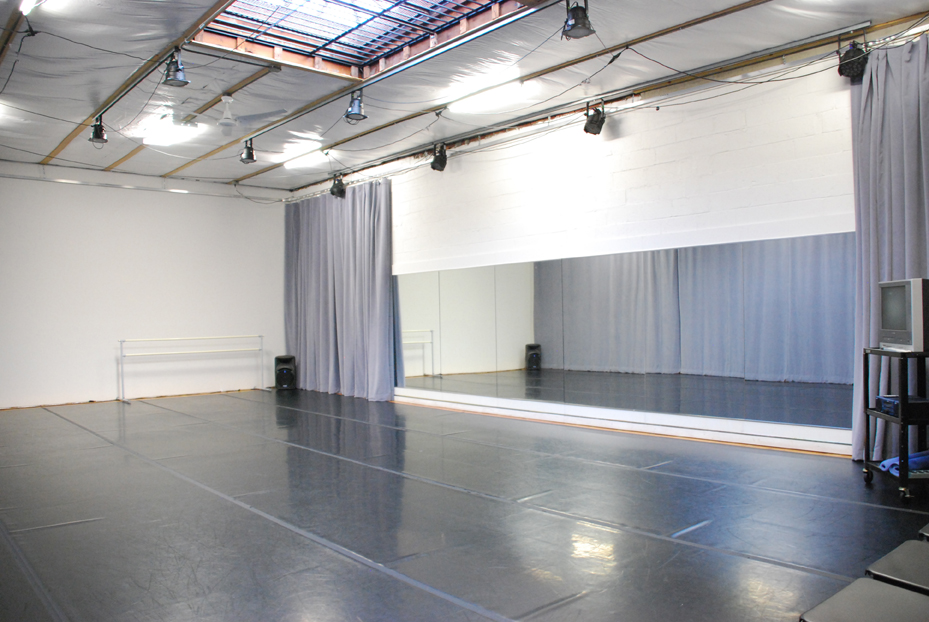 space rental
TOPAZ ARTS' Artist Services provides affordable rehearsal space rental to the dance community. Our dance studio is 25′ x 48′ with a marley-laid sprung heated floor; the 13-foot-high ceiling is accented with a skylight; equipped with full-length mirrors, audio/video equipment (DVD, CD/iPod, & free WiFi).
First time renters must make an appointment to meet with us for a site visit. Please note: due to the nature of the marley floor, no shoes (no pointe, tap, sneakers) or hard props are allowed. Limited space is available at regular rates for showings, workshops, and special events. Contact us for rates and availability. NYSCA subsidized rental rates at $10 per hour are available for qualifying dance rehearsals only.
To inquire about booking space, please contact us by email >
---
artist residencies
TOPAZ ARTS announces an open call for Dance in Queens 2012: Space Exploration Dance Residency. This artist residency focuses on contemporary dance makers, offering choreographers concentrated time and a private space in which to explore new ideas.
Up to six choreographers will be selected to receive free rehearsal space at TOPAZ ARTS. Choreographers will each be awarded 30 hours during April to June 2012 (hours to be used within a one-month period) in the spacious 1,250 sq. ft. studio. The intent of this residency is to support concentrated time for the creation process, allowing choreographers a space in which to explore ideas or new working methods, with an opportunity to have informal open rehearsals or artist talks to discuss their creative process among peers and audiences.
Choreographers from all five boroughs of New York City may apply. Also open to artists outside of NYC, but please note: there is no stipend, no travel and no housing provided. Choreographers will be chosen from a competitive application process and reviewed by a panel of professionals in the dance field on the basis of artistic merit, description of intent for the residency and video work samples. Awardees will be announced by mid-March.
The deadline has passed. Please check back next Spring or sign up here to receive email updates.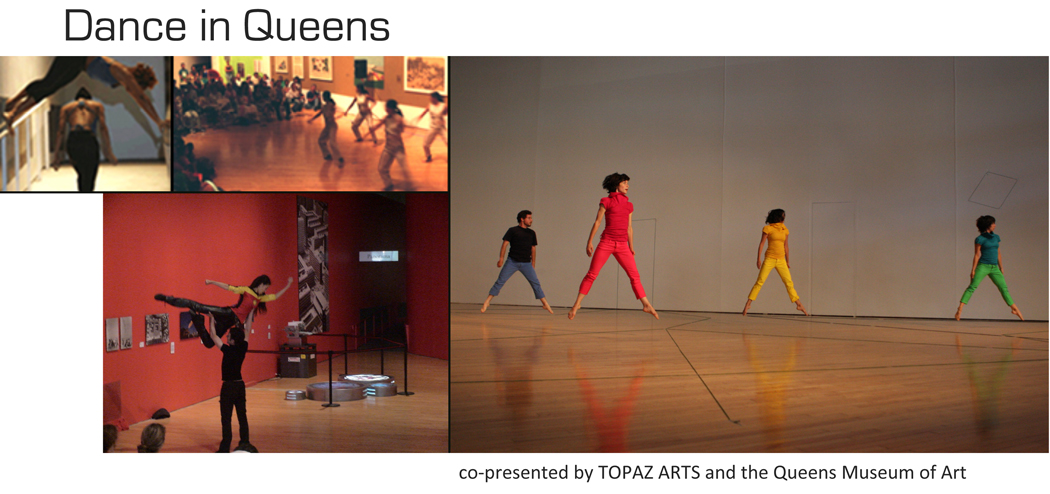 Dance in Queens is an annual summer residency and performance series which began in Summer 2003 as a collaborative project between TOPAZ ARTS and the Queens Museum of Art, to provide opportunities for contemporary dance in the diverse community of Queens.
2011-12 Dance in Queens Awardees: Space Exploration
Monstah Black
Dina Denis
Molissa Fenley
I-Ling Liu
Aaron Mattocks
Chia Ying Kao
2010 Dance in Queens Awardees: Solo Flight
Daniel Charon
Ursula Eagly
Dina-Verley Saab-Mills
2009 Dance in Queens Awardees
Regina Nejman and Company
Richard Rivera
Malini Srinivasan
Daniel Gwirtzman
2008 Dance in Queens Awardees
Andrea Haenggi | AMDaT
Paul Singh | Singh & Dance
Laura Peterson Choreography
Anthony Whitehurst
2007 Dance in Queens Awardees
Mikuni Yanaihara | Nibroll (Japan)
Noemi Segarra | no e(s) collective
Samar King | Yaa Samar! Dance Theater
Chris Giarmo
2006 Dance in Queens Awardees
Kiyoko Kashiwagi | Anime Dance Theater
Baraka de Soleil | D Underbelly
Adam Scher | Adam Scher Dance
Elise Knudson | Airelise Dance
2005 Dance in Queens Awardees
Dusan Tynek and Dancers
Johanna Hegenscheidt
Leonides Arpon
Parijat Desai
Yin Mei
2004 Dance in Queens Awardees
Hana Vanderkolk
Judith Sanchez Ruiz
Kaori Ito
Christalyn Wright
2003 Dance in Queens Awardees
Camille A. Brown
Regina Nejman and Company
Heather Maloney
Mayuna Shimizu | Blue Muse Dance
TOPAZ ARTS support for this residency project is made possible by the New York State DanceForce with funding from the
New York State Council on the Arts Dance Program; and, in part, by NYC Department of Cultural Affairs.