Topaz Arts at the Chicago Marathon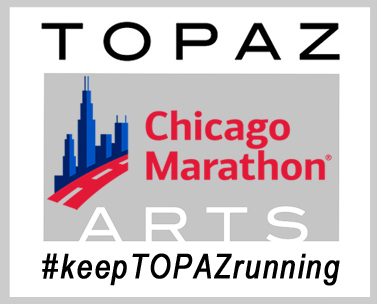 Help us #keepTOPAZrunning! Paz is off to run the Chicago Marathon on Sunday, October 8th to raise funds for TOPAZ ARTS. Celebrating our 17th Year, our goal is to raise $1,700 to help us keep our space and programs running.
Bring us closer to our goal and let's cross the Finish Line together!
click here to make a donation >
Support Topaz Arts today!
All amounts are greatly appreciated. Please consider making a fully tax-deductible donation for TOPAZ ARTS. Your support is essential for the continuation of our programs, enabling us to maintain our facilities and provide a creative space for artists and our community.TOPAZ ARTS is a 501(c)(3) tax-exempt charitable organization. Contributions are fully tax-deductible to the extent permitted by law.
Thank you for your support!