National Coming Out Day at Topaz Arts
Thank you for joining us for National Coming Out Day on October 11th. Enjoy the photos from Topaz Arts!
October 11th is National Coming Out Day
Join us at Topaz Arts
for a Reception for LGBTQ Pride
"Celebrate Who You Are Proudly"
on Wed, Oct 11, 6:30-8:30pm
Admission is free. Please RSVP here >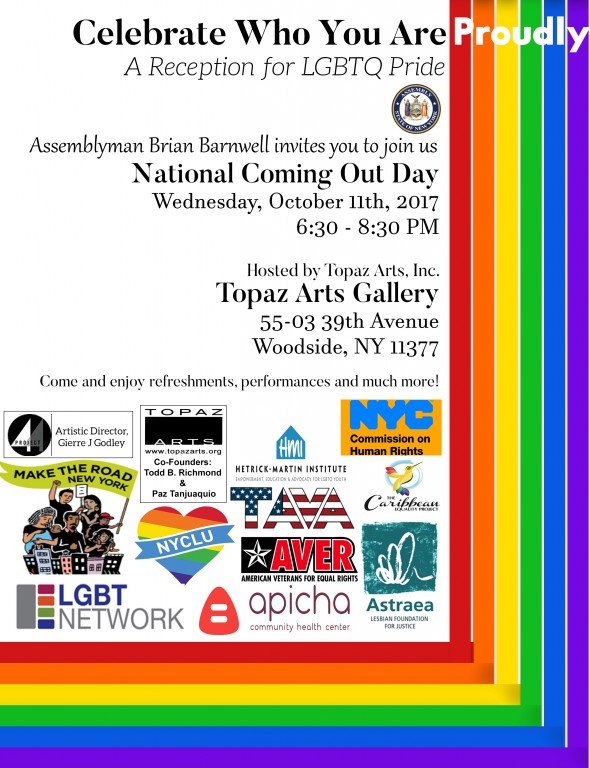 The Democratic Representative of Assembly District 30, Assemblyman Brian Barnwell is hosting a celebratory night of mingling, learning and honoring with and for the LGBTQ community. Assemblyman Barnwell's office has partnered up with numerous LGBTQ organizations, community health centers, civil liberties unions and much more to bring the attendees special representatives that can educate and provide them with absolutely anything that they may need, especially as a person from the LGBTQ community. Besides having a plethora of hard-working and renown organizations join the reception, attendees will enjoy refreshments, performances and an award ceremony celebrating honorees that have done extensive work for the LGBTQ community through advocacy, innovation and strength. Expect to hear a few words from local elected officials, including Queens Borough President Melinda Katz and City Council's Majority Leader Jimmy Van Bramer, participating organizations and honorees.
Assemblyman Brian Barnwell looks forward to seeing you on October 11th!
Topaz Arts Hosts a Reception for LGBTQ Pride
"Celebrate Who You Are Proudly"
on Wed, Oct 11, 6:30-8:30pm
---
Everyone, of every and any sexual orientation, gender, nationality, race, ethnicity and age, are invited to attend a night celebrating the LGBTQ community.
To RSVP, please visit the following link:
https://www.eventbrite.com/e/celebrate-who-you-are-proudly-a-reception-for-lgbtq-pride-tickets-38069803808
If you prefer to RSVP through other means, please email chowdhurya@nyassembly.gov / chowdhuryaniqa@gmail.com or call Assemblyman Barnwell's office directly at 718-651-3185
---