Celebrate Filipino American History Month at Topaz Arts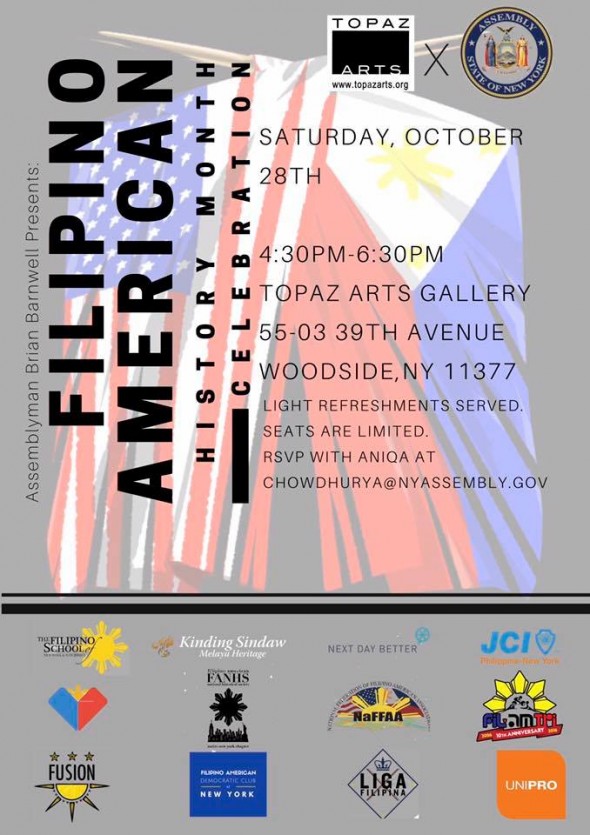 Join NYState Assemblyman Brian Barnwell on Saturday, October 28th at 4:30pm at Topaz Arts, as we honor the following for the great work they have done for the Filipino-American community:
• Ambassador Mario de Leon Jr.,
• Stella Abrera,
• Ninotchka Rosca,
• The Fil-Am Press Club,
• Richard Mendoza,
• Aida Bartolome
Kinding Sindaw and Stony Brook PUSO are also joining us for cultural and modern dance performances!
Filipinos have been on the Continental U.S. for the last 430 years when sailors from the Philippines landed in Morro Bay in California. Spearheaded by the Filipino American Historical Society (FANHS), Filipino American History Month was passed by resolution in the US Congress in 2009.
Saturday, October 28th at 4:30-6:30pm
at Topaz Arts, 55-03 39th Ave > directions

Free admission. Light refreshments will be served. Seating is limited, so please RSVP to chowdhurya@nyassembly.gov or call the District Office at (718) 651-3185.