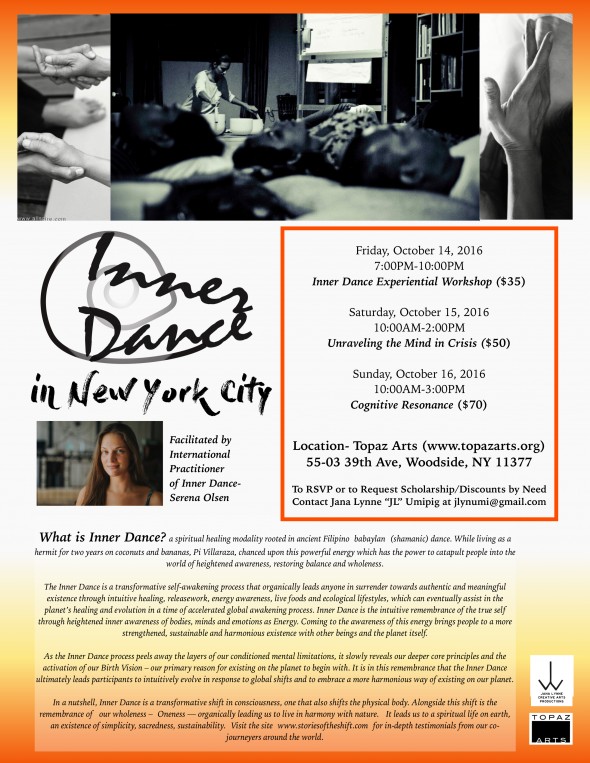 Inner Dance Workshop at Topaz Arts: Oct 14-16, 2016 
We are being offered an amazing opportunity of connecting to spirit and grounding with an introduction and invitation to experience the workings of the Inner Dance Practice.
The Inner Dance rooted in Philippine origined practice, this process is now spread across Europe, America and Asia, numerous teachers are facilitating this expansiver and intuitive energy as an awakening gift, a healing modality and a spiritual journey.
We will be holding a series of gatherings of Inner Dance experiences.
Friday, October 14, 2016
7:00PM-10:00PM
Inner Dance Experiential Workshop ($35)
Explore cognitive insights and practical relationships between internal energy states and the externalized version of the world known as reality or illusion. Experience sessions with Inner Dance are music based in which physical movement may or may not occur. There is nothing that needs to be done except to lay down and trust the process. The Inner Dance creates a space for opening up to and trusting our intuition and deeper consciousness as it supports personal growth and change simultaneously on various levels of experience.
Saturday, October 15, 2016
10:00AM-2:00PM
Unraveling the Mind in Crisis ($50)
This workshop focuses on layers that create conditions of dissatisfaction, avoidance, and fear that lead to depression, anxiety, stress, or addiction. Within a dialogic and safe environment, participants share through stories and personal experiences that allow transformation to happen. When participants confront that which creates repetitive patterns of distress and insufficiency, they are gifting themselves with the potential to witness and observe the authentic self as seen through Wholeness.
Sunday, October 16, 2016
12:00PM-5:00PM
Cognitive Resonance ($70)
(Cognitive Resonance is a psychological model emerging from within the Inner Dance process)
Cognitive Resonance gently explores expanded states of perception that leads to healing and transformation. It serves as an accessible opening to those dealing with depressive states, addiction issues, and psychosomatic mind and body disorders. Cognitive Resonance primarily focuses on observing fear-avoidance cycles as the main physio-emotional cause of various physical and mental illnesses while playing a highly functional role assisting in recovery processes.
Location: Topaz Arts, 55-03 39th Ave, Woodside, NY 11377 > directions
To RSVP or for Information on Discounts and Scholarships Contact Jana Lynne "JL" Umipig at jlynumi@gmail.com
About: Inner Dance Practitioner Serena Olsen
Serena, a New York native, has been living in South East Asia since 2011. She began her sojourn into Inner Dance processes in 2012. Her journey has taken her from a bi-coastal lifestyle as an educator in the United States to a teaching position in Malaysia and eventually to an ecovillage in the Philippines. Through an innate connection to metacognitive intuition and heightened states of electricity, especially after being struck by lightning, Serena has dedicated her life to the support and service of globally evolving processes of consciousness awakening and transformation.
Serena is a global facilitator of Inner Dance processes and is the first facilitator to bring the Inner Dance Energy School (IDES) process to the United States. She is a resident of the MAIA Earth Village, a member of the Global Ecovillage Network of Oceania and Asia (GENOA), a volunteer educator for the Self-Health Empowerment Movement (SHEM) and a representative for the Wholeness Networks of Asia and America. She actively explores patterns of the mind and the science behind our life experiences. Serena's experience as a spiritual teacher and healer has taken her through numerous modalities and techniques for helping others sense their truth and inner wisdom so clarity and insight builds to support both healing processes and awakening journeys for children, youth and adults.