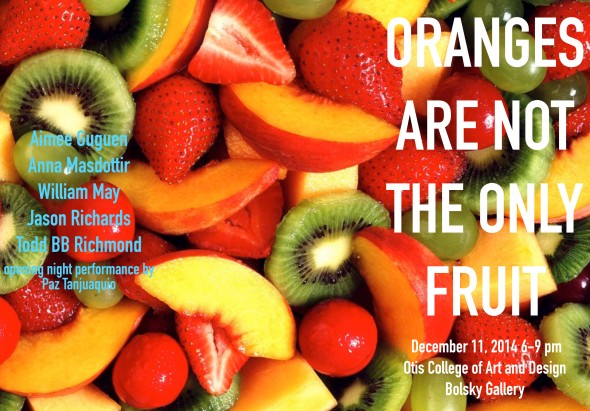 "Oranges are not the only fruit"
on view Dec 11, 2014 to Jan 9, 2015
curated by
Corinne Bernard, Chelsea McCarthy, Maxfield Miles
Opening reception:
Thurs, Dec 11, 6-9pm
Bolksy Gallery
Otis College of Art & Design,
Bronya & Andy Galef Center for Fine Arts
9045 Lincoln Blvd, Los Angeles, CA
free parking in gated lot
TOPAZ ARTS is thrilled to announce that Todd BB Richmond's newest work "Mind Field Port" has been selected to be in a group exhibition at the Bolsky Gallery in Los Angeles, CA, with a special site-specific dance within the installation by choreographer/dancer Paz Tanjuaquio. Performance for the opening nite only at 7pm & 8pm on Thurs, Dec 11th.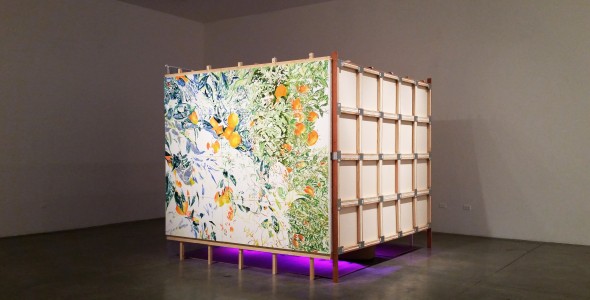 Mind Field Port
by Todd BB Richmond
Installation with 5 paintings (oil on canvas), 3 live trees (avocado, lemon, and Valencia orange), LED grow lights, internet camera; 2014
Mind Field Port is an installation piece that consists of three living trees – avocado, lemon, and Valencia orange – cultivated under LED grow lights. The installation walls and ceiling are constructed of five large oil paintings – three paintings of avocado and Valencia orange orchard paintings – depict an abstracted arboretum, in part, an homage to the once abundant, now vanishing coastal citrus orchards of Ventura County, California. The ceiling painting – a spiral staircase – depicts an experience of the artist's vertigo, in a broad sense, representing the human condition; and a fifth painting, an open grey slate for the future. A babycam is installed to monitor the trees and their growing fruits. Trees improve the human condition – emitting oxygen, cleaning the air, and in their presence, the trees communicate in calming you. Viewers are invited to enter "Mind Field Port" to experience the trees and the environment, mingle within the room – evocative of the "chill-out rooms" of the 1990s club era.