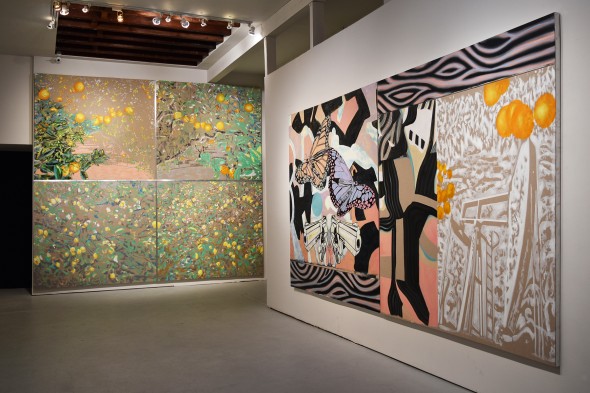 TOPAZ ARTS, Inc. presents
Mind Field: Oil and Oranges
a solo exhibition of large-scale paintings by Todd Bradford Richmond
on view May 15 to August 15, 2015
opening reception: Friday, May 15, 2015, 6-9pm
during TOPAZ ARTS' 15th Year Celebration
Admission is complimentary.
TOPAZ ARTS, 55-03 39th Avenue: directions >
Gallery hours are by appointment: please email visit@topazarts.org

TOPAZ ARTS Visual Arts Program is pleased to present
Mind Field: Oil and Oranges
by artist
Todd Bradford Richmond
in his first solo exhibition,
on view May 15 to August 15, 2015
.
Celebrating its 15th year, TOPAZ ARTS is pleased to present the first solo exhibition by founding artist Todd B. Richmond 
in a new series of large-scale paintings "Mind Field: Oil and Oranges". These inspired works, created while in Southern California, are at once lush with color and imagery against the materials of exposed linen, oil paint, aluminum and tar. Conceptually depicting arboretums, oil fields, and urban elements, the work surveys the dichotomy of land use and natural resources, capturing the fading era of coastal citrus orchards now dwindling due to drought and development.
Review: "Amid drought, pieces resurrect a shrinking bounty"
by Cristina Schreil, Queens Chronicle: Arts, Culture & Living > read

"While at CalArts in Valencia, California, I was captivated by the nearby Ventura valley of lemon, orange and avocado orchards. After years of severe drought, the last remaining coastal citrus orchards of the western U.S. are quickly being uprooted and paved over for development. These fields bring back to mind when, as a teenager, I hitchhiked a far less-developed California, worked on farms, and at one point lived in a cabin for migrant farmers. This nostalgic past reminiscent of John Steinbeck novels, reflect an optimistic time when resources seemed unlimited. The Ventura valley has what is called the 'pink moment' – when the sky turns pink at sunrise & sunset, and the Valencia oranges glow a yellow gold. This series is inspired by this fertile arid valley, a surreal Mars-like landscape, using colors and materials of oil paint on raw linen, aluminum, and La Brea tar."  
    — Todd B. Richmond
This exhibition by Todd B. Richmond completes the series of solo exhibitions featuring former artist assistants to the late Richard Artschwager, including artists, Chris Freeman, Tenjin Ikeda, An Ngoc Pham and Alan Ulrich.
The TOPAZ ARTS Visual Arts Program is made possible, in part, by NYC Dept. of Cultural Affairs and NYC Council Member Jimmy Van Bramer.
About the Artist:
Todd Bradford Richmond is a visual artist, filmmaker and composer based in New York City and Los Angeles. His work has been shown in group exhibitions at Bolsky Gallery at Otis College of Art and Design, CalArts in Los Angeles; at Topaz Arts, Fountain Art Fair at the Armory in NYC. During his youth he attended 2 years of independent studies in visual arts at Carnegie Mellon University followed by two years independent visual arts studies after high school at the Art Institute of Chicago. As a visual artist, he was assistant to sculptor Richard Artschwager from 1990-1995 when he fabricated and painted many major works that are now in the collections of the Museum of Modern Art, Fisher Landau, Cartier Foundation, among others worldwide. He has designed stage sets, sculptures, and music for choreographers including Paz Tanjuaquio and Molissa Fenley, among many others. Richmond is currently pursuing his MFA in Visual Arts at CalArts and Otis College of Art and Design, and is a graduate of City College of New York in Music with a minor in Film. While at CCNY he was awarded The ASCAP Foundation Louis Dreyfus Warner/Chappell City College Scholarship honoring George and Ira Gershwin. His aural compositions and stage set designs have been seen and heard in NYC at such venues as New York Live Arts, Danspace Project, Harkness Dance Festival, Symphony Space, Performance Space 122, Frank Sinatra School of the Arts; nationally at San Diego Dance Theater's Trolley Dances, the Philadelphia Fringe Festival, G-C Arts Projects in Las Vegas, Cornell University, Ohio University and internationally at the National Theater in Seoul, Korea, Phnom Penh, Cambodia, Manila, Philippines and Ho Chi Minh City, Vietnam. Richmond has created numerous evening-length works with choreographer Paz Tanjuaquio and has received awards for his work from the National Endowment for the Arts, Meet The Composer Commissioning/USA, NYC Dept. of Cultural Affairs, Queens Council on the Arts, among others. He has been an artist-in-residence at Kaatsbaan International Dance Center in Tivoli, NY in 2010, and at the Atlantic Center for the Arts, Florida for a dance on camera residency with master artist Merce Cunningham in 1997. His dance films have been selected for American Dance Festival's 15th Annual International Screendance Festival, Queens Museum of Art, Video Cha Cha at Bryant Park, Ohio University, and the Dance on Camera Festival at the Donnell Media Center, NYC. Richmond's dance films are in the permanent archives at The New York Public Library for the Performing Arts at Lincoln Center. Todd B. Richmond is President and Co-Founding Director of TOPAZ ARTS, Inc.