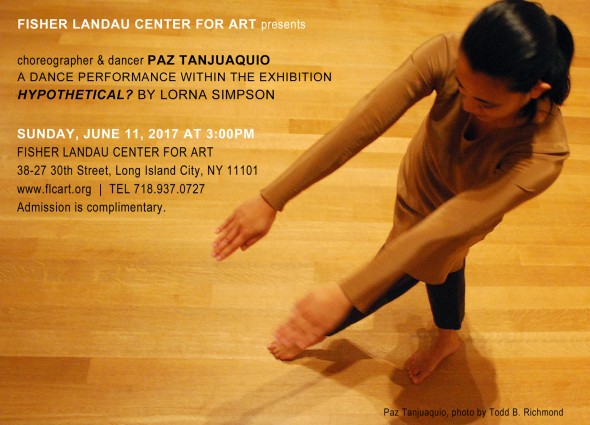 Fisher Landau Center for Art presents ­choreographer and dancer Paz Tanjuaquio in a dance performance within the exhibition Hypothetical? by Lorna Simpson.
Sunday, June 11, 2017 at 3:00pm
at Fisher Landau Center for Art
38-27 30th Street in Long Island City, NY > directions
718.937.0727
www.flcart.org
Creating dance inspired by artworks, choreographer Paz Tanjuaquio's first piece made while at NYU Tisch School of the Arts in 1992 was based on Lorna Simpson's work "Guarded Conditions" (1989). Responding to cultural identity and the work's emphasis of the body, Paz brings performative aspects to the exhibition Hypothetical?, while exploring dance within the physicality of the space and sound installation.
Paz Tanjuaquio has been active in NYC since 1990 as a choreographer, dancer, performer, visual artist, curator, & marathoner. Awards for her choreography include National Endowment for the Arts, NYFA/BUILD Award, Mertz Gilmore Foundation, among others, and has been artist-in-residence at Kaatsbaan in Tivoli, NY, Akiyoshidai Int'l Art Village in Japan, Atlantic Center for the Arts in Florida, & Movement Research in NYC. Her work has been presented in NYC by Harkness Dance Festival at 92Y, Danspace Project, Performance Space 122, La MaMa; nationally, at Cornell University, Hudson NY Operation Unite, San Diego Trolley Dance, American Dance Festival Int'l Screen Dance; and internationally at residencies in Cambodia, Japan, Korea and her birthplace, the Philippines. Paz received her MFA in Dance from NYU Tisch School of the Arts, and BA in Visual Arts from UC San Diego. She continues to make dance and perform in works by choreographers such as Dean Moss, Molissa Fenley, among others. She is Co-Director of TOPAZ ARTS, Inc. – a nonprofit organization founded in 2000 with Todd B. Richmond to provide a creative space for contemporary performance and visual arts. www.topazarts.org